Trudy is very sweet and loving , She is AKC reg. Norwich Terrier just looking for a home to give that too. UTD on vac, good in house, rides in car, walks on lease..knows sit and her name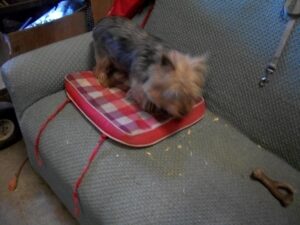 3 health-boosting benefits of pets!
Ease Aches!
People who spent just 10 minutes with a furry friend experienced a dramatic decrease in pain, according to a study in the journal Pain Medicine.  How?  Experts say it's thanks to an increase in oxytocin, a hormone that can alter a person's stress response and perception of pain – for up to 3 hours!
Speed weight loss!
Dog owners, on average, walk 22 minutes more per day, says a study published in the journal BMC Public Health.  The result:  Researchers have found that dogs not only encourage the extra steps that burn fat and speed weight loss, they also motivate their owners to stick with it for even more pounds shed!
Reduce blood pressure!
Animal therapy was shown to significantly reduce blood pressure, found a study at the UCLA Medical Center.   And the American Heart Association's Scientific Sessions reports that spending just 12 minutes with a dog improves heart function!
This video was taken of a pup that was just
placed through Vopelak Terriers.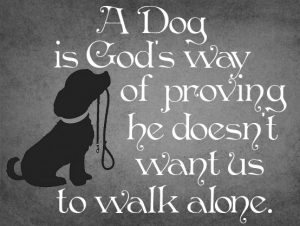 Sure, dogs shed.  But they provide lots of love, too.  And owning one reduced the risk of early death significantly, according to the results of a 12-year Swedish study.  Do owners who lived alone saw their risk fall the most, by 33 percent (vs. 11 percent for those who lived with others).  Possible reasons?  They may have had a closer relationship with their pet and did all the walking – which may have helped them get more exercise.  while those with hunting breeds (hounds, retrievers, and terriers) appeared to reap greater benefits than owners of other types of dogs, all received a longevity boost, perhaps because dogs ease loneliness and produce feelings of well-being, the researchers said.
Source:  Scientific Reports. Nov. 17, 2017
An Angel with Four Paws
While grieving the loss of her furry best friend, Emily Fishburn received a sign that his spirit was still with her.
See here story here.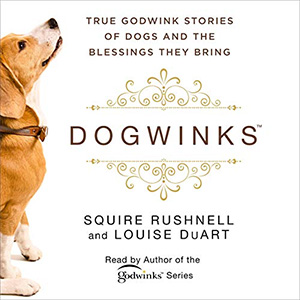 Dog owners and dog lovers understand the power pups have to leave paw prints on our hearts.  In his new book – part of the bestselling Godwink series – author SQuire Rushnell shares feel-good "tails" about dogs' special ways of bringing us hope and joy.  Every page tells of divine encounters involving four-legged friends that prove how God uses them to share miracles and blessings.  Each "dogwink" story is sweeter and more inspiring than the next.